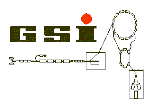 Go4 workshops 2004
Thursday, October 28th, 13h
Friday, October 29th, 9h (both in DVEE school room)

The workshops are intended for people already using Go4. The program will be flexible (teach on demand). Both workshop days are meant as alternative dates, i.e. we will repeat the same basic topics. However, the contents may differ in detail, depending on the user requests.
---
Collection of topics

List of topics to be explained in more detail. Feel free to propose others!
Structure of Go4 analysis (new examples, object organisation, auto save, preferences, macros)
Controlling analysis from GUI (hot start, monitoring)
Working with the GUI (browsers, view panels, pictures, editors, fitter, save/restore, key short cuts)
using CINT
How to set up the GUI
How to manage conditions (editor, save/restore)
How to use the markers (setting, save/restore)
How to use the browsers (analysis, files, histogram server)
Graphics and pictures
How to fit within the GUI
How to monitor histograms
How to use macros
How to process Go4 ROOT files with CINT
---
Preliminary program
The order and weight of the program can be adjusted to the interest of the audience.

Introduction of Go4 (v2.8) (presentation H.Essel)
New features
Analysis examples

GUI basic operation (J.Adamczewski)
Overview
Browsers
View panel
Channel and window markers
Settings

Fitter and Fit panel (S.Linev)
GUI wizard
Peak finders
GUI expert

Starting analysis from GUI (S.Linev)
Launch panel
Analysis terminal window
Analysis configuration window
Run control
Hot start

On-line histogramming and monitoring (J.Adamczewski)
Monitoring
Condition editor
Dynamic histogramming
Histogram client

Go4 pictures (S.Linev)
Picture setup
Pictures and conditions

Parameter objects (S.Linev)
Parameter usage
Parameter editor
Macro setting parameter values

Processing Go4 files from CINT (J.Adamczewski)
Prerequisites
Histograms and trees

Go4 user GUI (J.Adamczewski)

Discussion, new requirements, further development ...
---
Go4 home page / GSI home page
---
Author: Hans G. Essel, GSI
Total 1048, last 2022 May 20 09:19
Last update: 2010 Oct 06 15:48