The planned measurements at PANDA aim for highest luminosities and thus require high density internal targets. Most experiments will make use of proton anti-proton annihilations, thus a target proton. For many experiments at PANDA, densities well above 1015 a/cm2 are required. Moreover, the geometrical limitations due to the large scale experimental set-up may be a challenge for both the vacuum conditions as well as the achievable target densities using standard gas or cluster-jet targets.
A different approach is followed by using frozen droplets, so-called pellets. This technique has been employed successfully for the WASA experiment with both hydrogen and deuterium pellets. To further develop this target, such that it can be employed at PANDA, a second target station has been build up. The Pellet-Test Station (PTS) is shown in a 3d drawing to the left (later fittings and all gauges and diagnostics are not shown). It has been equipped with a PANDA-like vacuum system, including beam dump and realistic pumping conditions. Using the information from three vacuum gauges and comparing them with calculations, we could verify that we are indeed able to reach the required vacuum conditions with horizontal pipes of not more than 6 mm diameter. This is crucial as the detectors have to be designed around those pipes and should, of course, cover as much as possible of the solid angle.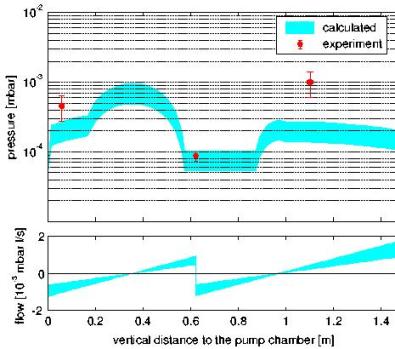 A comparison of experimental (red points) and calculated vacuum (light blue band) at the PTS is shown in the figure above. The experimental points lie factors 2 to 4 above the calculated band but agree within 2σ.